Hundreds of high school and collegiate a cappella groups craft their best sets with the goal of making it to New York City. The ICHSA and ICCA Finals highlight the best groups at both levels on the iconic stages of Lincoln Center and The Beacon Theater.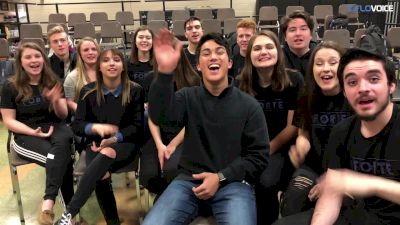 2016 Champions Return To ICHSA Finals
Apr 3, 2018
There must be something in the water in southwest Ohio. It clearly produces some incredible a cappella singers because three-time ICHSA runner-up and 2016 national champion Forte is ready to take on New York City again.
As the 2018 Great Lakes Regional champion, the Centerville (Ohio) High School group will compete in the ICHSA Finals at the Lincoln Center on April 20.
Forte broke the mold for high school a cappella, releasing the first-ever all-original album in 2012 and quickly followed it with two more. With too many awards to list, Forte is a perennial force in not just the high school a cappella scene but also the entire community. Aside from working with some of the industry's top names, the group has also produced them, with several alumni performing professionally.
Forte will host a benefit concert on Friday, April 6, in Dayton, Ohio, to raise funds for its NYC trip.