Hundreds of high school and collegiate a cappella groups craft their best sets with the goal of making it to New York City. The ICHSA and ICCA Finals highlight the best groups at both levels on the iconic stages of Lincoln Center and The Beacon Theater.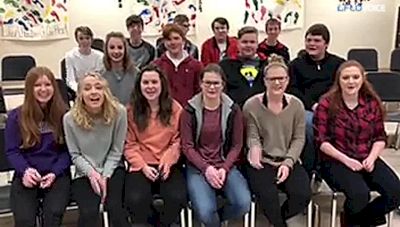 G-E-T Vocal Point Earns ICHSA Midwest Title
Mar 19, 2018
After making it to ICHSA Finals on the wild card ticket in 2017, G-E-T Vocal Point will return to New York City this spring as a champion.
The 15-member group from Gale-Ettrick-Trempealeau High School in Galesville, Wisconsin, earned its spot in the finals with a strong first-place finish at the Midwest Semifinals on March 10 in DeKalb, Illinois. With a total score of 398, G-E-T Vocal Point solidly took a win over runner-up Limited Edition of Port Washington, Wisconsin, and third-place finisher Knight Creek of Oak Creek, Wisconsin.
G-E-T Vocal Point member Alanna Peters also won Outstanding Choreography for the entire set.
Founded in 2012, this group has participated in the World Choir Games with Interkulture, finished in the top 20 of ICHSA for the last three years, and performed at Carnegie Hall under the direction of Deke Sharon for Total Vocal. Last year, G-E-T Vocal Point earned third place at ICHSA Finals and also took home Outstanding Vocal Percussion.
The 2018 ICHSA Finals take place April 20 at the Lincoln Center.