Hundreds of high school and collegiate a cappella groups craft their best sets with the goal of making it to New York City. The ICHSA and ICCA Finals highlight the best groups at both levels on the iconic stages of Lincoln Center and The Beacon Theater.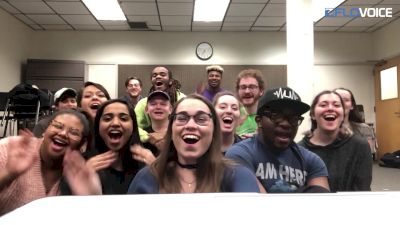 Upper Structure Rises To The Top In ICCA Northeast
Mar 20, 2018
The Berklee College of Music will again have a representative at the ICCA Finals following a soaring semifinals performance by rising star group Upper Structure earlier this month.
With a new album, new projects, and new shows, Upper Structure is setting itself up for success. After totaling a score of 420 at Boston's Symphony Hall, the group was the clear Northeast Semifinal winner over runners-up Harvard Opportunes, who finished with 344 points. The Harvard Low Keys rounded out the top three with a score of 302.
In addition to the overall highest score, Upper Structure also took home Outstanding Soloist for Brandon Harris' performance of "Freedom", Outstanding Vocal Percussion for Sarah Zorilla's entire set, and Outstanding Choreography for the entire set.
Founded in 2015, Upper Structure's previous best finish was second place in both the Northeast Semifinal and Wild Card Round in 2017. This will be the group's first time taking the stage at ICCA Finals. It also won Haunted Harmonies in 2016.
Upper Structure will take the finals stage on April 21 at Beacon Theatre in New York City.