2019 Barbershop Harmony International Convention
BHS Quartet Champions: A Look Back
BHS Quartet Champions: A Look Back
Here's a look back at the last ten champions and songs from their winning sets - who will join them this year?
Jun 11, 2019
by FloVoice Staff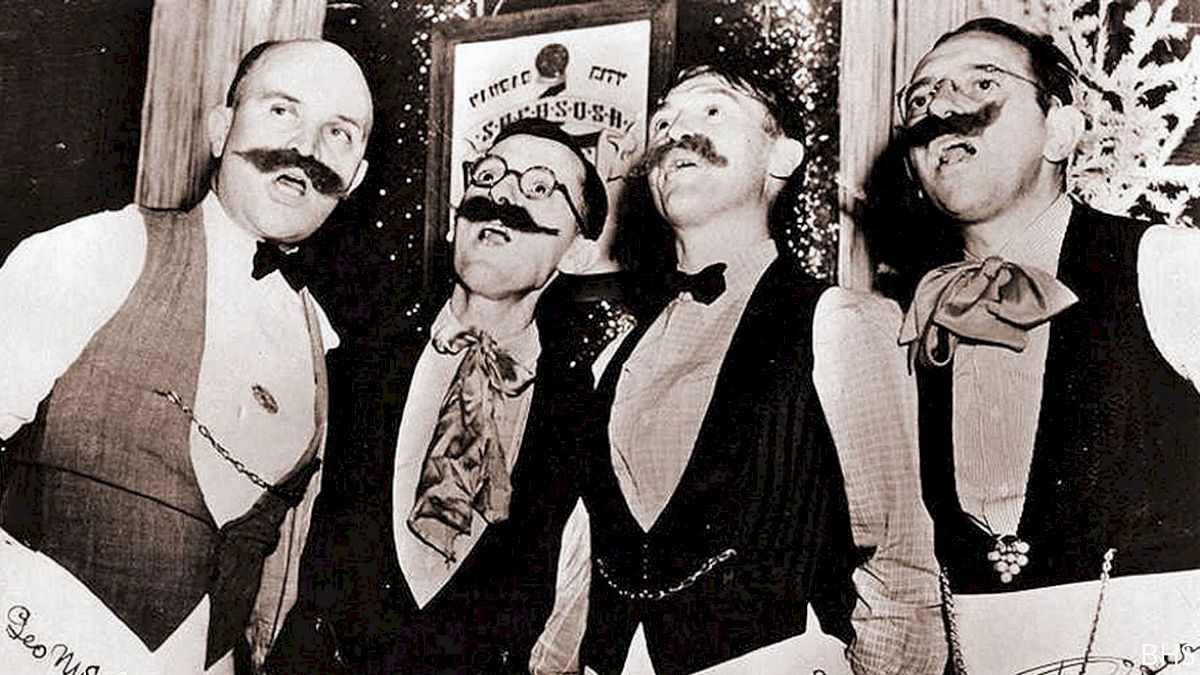 While the style and presentation of barbershop has evolved overtime, the end goal of perfectly executed close harmony remains and the cream still rises to the top. Here's a look back at the last ten champions and songs from their winning sets - who will join them this year?
2018 - After Hours (Illinois District)
Orlando, FL
Leading the pack from the starting line, After Hours finished with a record-breaking score.
Finals Scores: 94.7
Semifinals Score: 95.2
Quarterfinals Score: 94.3
Songs: Butter Outta Cream, The Sound Of Music, The Next Ten Minutes, You're A Heavenly Thing, The Coffee Song, Honeysuckle Rose
2017 - Main Street (Sunshine District)
Las Vegas, NV
Finishing 3rd overall in 2016, this group of Dapper Dans lead by legend and two-time gold medalist Tony DeRosa used comedy and charm to match their impeccable blend to edge out Signature for 1st place.
Finals Scores: 92.8
Semifinals Score: 92.2
Quarterfinals Score: 92.2
Songs: Pop Songs Medley, There's Nothin' That I Haven't Sung About, I'll Take You Dreaming, Life's A Happy Song, Razzle Dazzle, Smile
2016 - Forecast (Cardinal District)
Nashville, TN
After a near miss in 2015, Forefront returned to the contest stage to definitively win, starting strong and widening their lead over former Collegiate Quartet Champion Lemon Squeezy and later champion Main Street with each round.
Finals Scores: 93.3
Semifinals Score: 93.5
Quarterfinals Score: 93.3
Songs: Hit Me With A Hot Note, If You Love Me, Really Love Me, Georgia On My Mind, I Got Rhythm, It Only Takes A Moment, Ring-A-Ding-Ding!
2015 - Instant Classic (Cardinal District)
Pittsburgh, PA
Coming from behind after finishing 2nd place in quarter and semifinals, Instant Classic stunned the crowd in the finals to win by just 11 points and 0.1% over Forefront.
Finals Scores: 92.7
Semifinals Score: 92.1
Quarterfinals Score: 91.5
Songs: I Won't Send Roses, This Could Be The Start Of Something Big, Spend My Life With You, 'Til I Hear You Sing, How Could I Ever Know?, Love Me Or Leave Me
2014 - Musical Island Boys (NZABS)
Las Vegas, NV
With contest packages full of feel goo songs, MIB slowly inched their score up to outdo both Forefront and Main Street to win the first ever gold medal for New Zealand after spending three years at 2nd place.
Finals Scores: 89.5
Semifinals Score: 89.4
Quarterfinals Score: 89.2
Songs: Somewhere Out There, I Just Can't Wait To Be King, Childhood, Ain't Too Proud To Beg, Now It The Hour, Hakuna Matata
2013 - Masterpiece (Far Western District)
Toronto, ON
The clear winner from the start, Masterpiece finished 39 points ahead of their nearest competitor, the 2014 champions, Musical Island Boys.
Finals Scores: 89.3
Semifinals Score: 89.5
Quarterfinals Score: 89.4
Songs: Drown In My Own Tears, Where've You Been?, Tennessee Waltz, Oh Susanna, Sweet Lucy Brown, Old Friends
2012 - Ringmasters (SNOBS)
Portland, OR
Traveling to the US West Coast all the way from Scandinavia, Ringmasters rang in a 90+ score to win out over future champions Musical Island Boys, Masterpiece, Main Street, Throwback, and Forefront.
Finals Scores: 91.7
Semifinals Score: 91.8
Quarterfinals Score: 90.9
Songs: Lazybones, I Love Being Here With You, Between The Devil And The Deep Blue Sea, Love Me And The World Is Mine, So In Love, I Can't Give You Anything But Love
2011- Old School (Mid-Atlantic District)
Kansas City, MO
A definitive win by 120 points and 1.4%, Old School topped a field of strong competitors, after being edged out by Storm Front for gold in 2010.
Finals Scores: 89.9
Semifinals Score: 89.7
Quarterfinals Score: 89.3
Songs: Little Town in Ould County Down, I Want A Girl, As Time Goes By, Ma She's Making Eyes At Me, Forgive Me, Yes Sir, That's My Baby/Ain't She Sweet? (Medley)
2010 - Storm Front (Rocky Mountain District)
Philadelphia, PA
This comedy quartet surpassed Old School in the Finals to take home gold with parody and laughter.
Finals Scores: 91.3
Semifinals Score: 90.6
Quarterfinals Score: 89.2
Songs: As Time Goes By, Ma! (She's Making Eyes At Me), You're The Flower Of My Heart, Sweet Adeline, I Want A Girl, I've Grown Accustomed To Her Face (Parody), Jukebox Saturday Night (Medley)
2009 - Crossroads (Central States District)
Anaheim, CA
Scores at this level wouldn't be seen again until Forefront in 2016. The now legendary Crossroads took the gold over Old School with a score of 8433 - winning by 213 points.
Finals Scores: 93.7
Semifinals Score: 94.4
Quarterfinals Score: 93.9
Songs: Mean To Me, A Little Patch of Heaven, That Lucky Old Sun, Mobile Medley, Daddy's Little Girl, Georgia May
To jog your memory of all the past champions, AIC documents it quite well for the barbershop nerd in all of us.