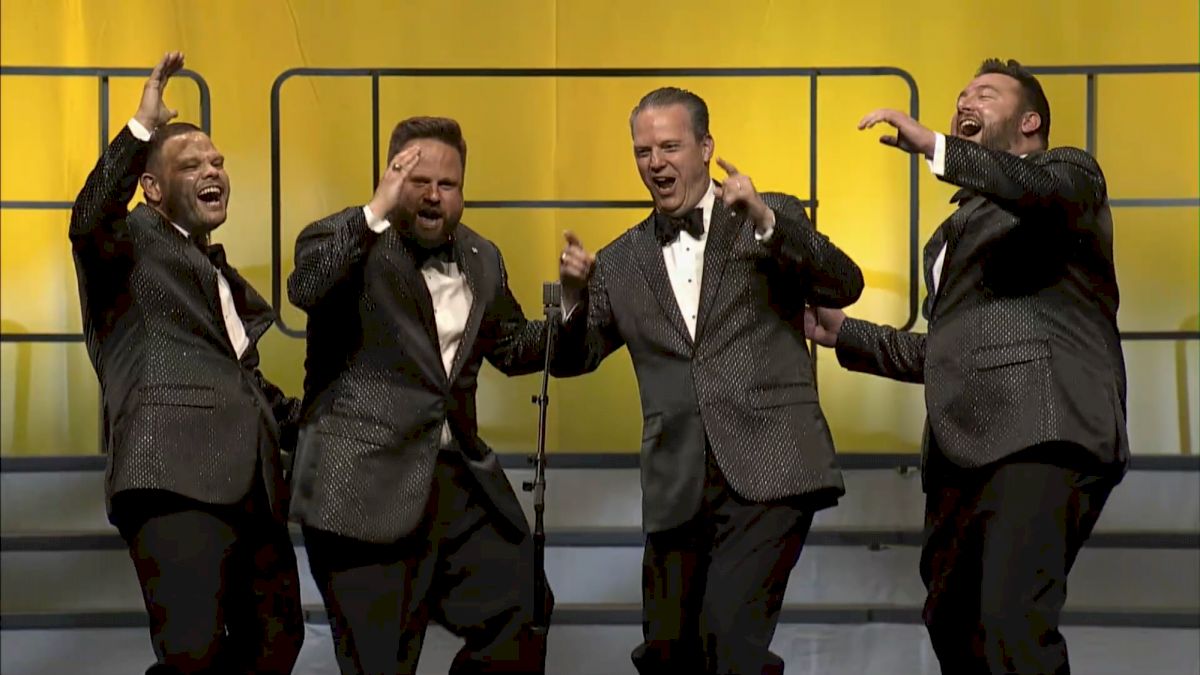 In front of a packed enthusiastic audience in the Spectrum Center in Charlotte, NC, the world's top ten quartets gave the performances of a lifetime. Quorum, a quartet packed with decades of experience, delivered an incredible musical performance, scoring 8462 points for a 94.0%. This gives the group the 2nd highest quartet score in the history of the organization.
Of note, bass Gary Lewis became the first person to win three medals on three different parts. He previously won with MaxQ on baritone and Platinum on tenor. Although there are chorus gold medals amongst the group, this is the first quartet gold for baritone Nathan Johnston, lead Chris Vaughn, and tenor Puck Ross. The group's previous highest finish was 3rd in Salt Lake City in 2019.
Rounding out the medals were Midtown with the silver at 8309 points / 92.3%, Throwback with 3rd place bronze with 8283 points / 92.0%, GQ with 4th place bronze at 7968 points / 88.5% and First Take with 7878 points / 87.5%.
For Midtown, this was a 197 point increase over their performance in Salt Lake City where they placed third. Throwback slid back slightly in the rankings, moving down one spot from silver in Salt Lake City. GQ becomes the first treble/non-all-male quartet to medal at a BHS International contest, delivering the song of the contest in their closing song of the finals. The song was a parody on "Where We Belong," conveying the experience of finding a home in barbershop with BHS. The song was so well received, they got a roaring standing ovation mid-song. First Take, while full of familiar faces, was in the contest for the first time and is expected to be a group to watch in years to come.
Check out "Them Their Eyes" from newly minted champions, Quorum: