Vocalight Wins Midwest Aca Open By A Mile
Vocalight Wins Midwest Aca Open By A Mile
Vocalight wins Varsity Vocals' Midwest Aca Open Semifinal in a landslide.
Aug 7, 2017
by Evan Feist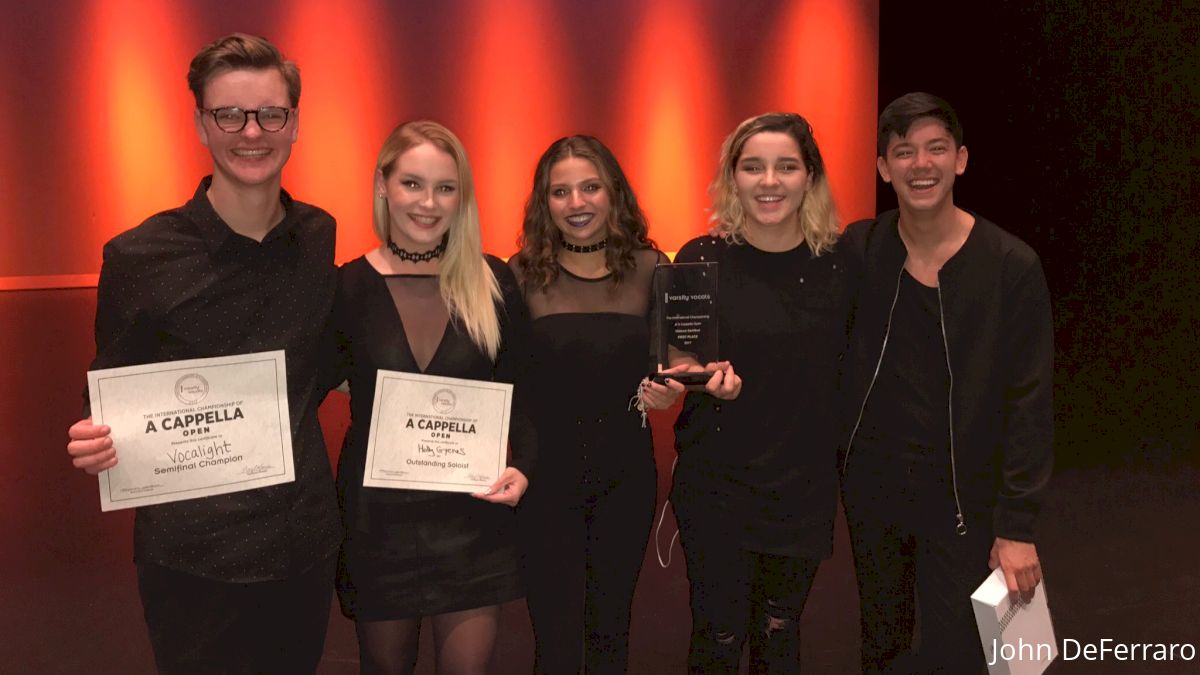 Varsity Vocals
' Aca Open is providing an amazing performance platform for groups of all ages and types. It's serving as a launchpad for young groups like
Vocalight
and giving one group$25,000 for touring, content creation, and/or whatever else they want.
Vocalight at the Aca Open
Vocalight
took the
Midwest Semifinal
in a landslide, scoring 52 points higher than the 2nd Place
Enharmonic Fusion
and 122 points higher than 3rd Place's
Lyra
.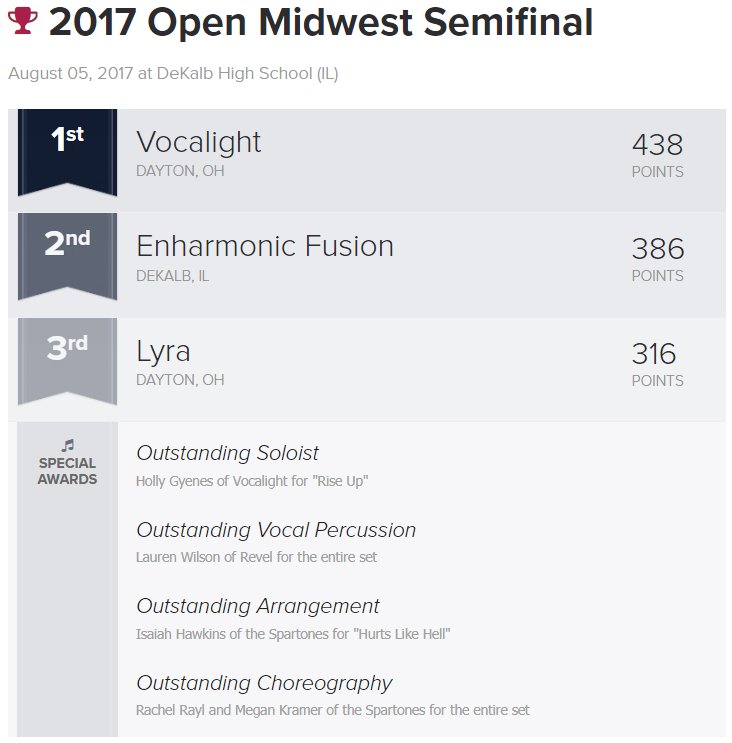 Another distinguished feature of the Midwest Semifinal is that all three placing groups are all pre-grad.
Vocalight
was recently born of Centerville HS
Forte
,
Lyra
from Chaminade Julienne HS
Vega
, with
Enharmonic Fusion
is the hometown HS group from Dekalb, IL.
Vocalight
sang three charts that managed to showcase how all five of the members are worthy to fill roles both as ensemble members and soloists. Their sound is strong for five young people, and they filled the stage with their presence. They have an excellent awareness of their strengths and play to them strategically.
Vocalight
is especially impressive as they're a new and fairly young group. It's obvious that they gel together well onstage and off.
Vocalight Opens for Daya
Enharmonic Fusion
, who placed 2nd at the
2017 ICHSA Finals
, performed that same at the Aca Open. Grace Klonoski, one of their soloists, showed performance skills way beyond her years and it was hard to remember that she was still in High School. She won "
Outstanding Soloist
" at the 2017 ICHSA Finals. They were the largest group of the evening with 18.
Enharmonic Fusion's 2017 ICHSA Set
Lyra
is based in Dayton, Ohio and is comprised of former members of
Vega
, a perennial ICHSA powerhouse from Chaminade Julienne HS. Angelo Knight was a standout soloist and overall, they had great energy and tuning. Lyra is a new group and they have a ton of potential if they continue to work together.
"Circus" as performed by Lyra
All 4 potential Special Awards were given out, starting with "Outstanding Soloist".
Holly Gyenes
from Vocalight was given this award for an emotional performance that embodied the powerful meaning of "
Rise Up
". You couldn't help but feel inspired as she took the audience on a journey.
"Outstanding Vocal Percussion" went to
Lauren Wilson
from
Revel
, further proving that women can be as strong as men on percussion. She's a great role model for any young VP.
Isaiah Hawkins
of the
Spartones
won "Outstanding Arrangement" for highlighting multiple soloists while still communicating a cohesive story with a group that combines people from five groups at Michigan State. The Spartones also won "Outstanding Choreography" for their commitment to visual storytelling.
"I thought the evening was much better than I had expected." Judge
Dennis Gephart
told FloVoice. "All the groups came out knowing who they were and why they were there. For some, it was to win the competition while others it was for more personal reasons and to reconnect once more with the people and music that played an important role in their lives. It was exciting to see such great vocalists have a place once again to show their talents."
I think Varsity Vocals has tapped into a whole new market that will be exciting to watch grow in the upcoming years.
Bryan Miller
provided some wonderful sound design and mixing, assisted by
Sarah Parrott
(recent Centerville HS grad, who was just name the inaugural recipient of
The Jimmy Humphries Endowed Scholarship in Technical Theatre
at the
International Thespian Society National Convention
).
Special Thanks to John DeFerraro
--
FloVoice's best content, delivered directly to your inbox!
Don't miss exclusive videos, feature stories, event updates, and more.
Sign up for the FloVoice Newsletter and never miss a beat.