How Do You Write For A 'Roomful of Teeth'?
How Do You Write For A 'Roomful of Teeth'?
Jessica Meyer recounts her experience of writing for vocal supergroup Roomful of Teeth at The Tank.
Jul 30, 2017
by Evan Feist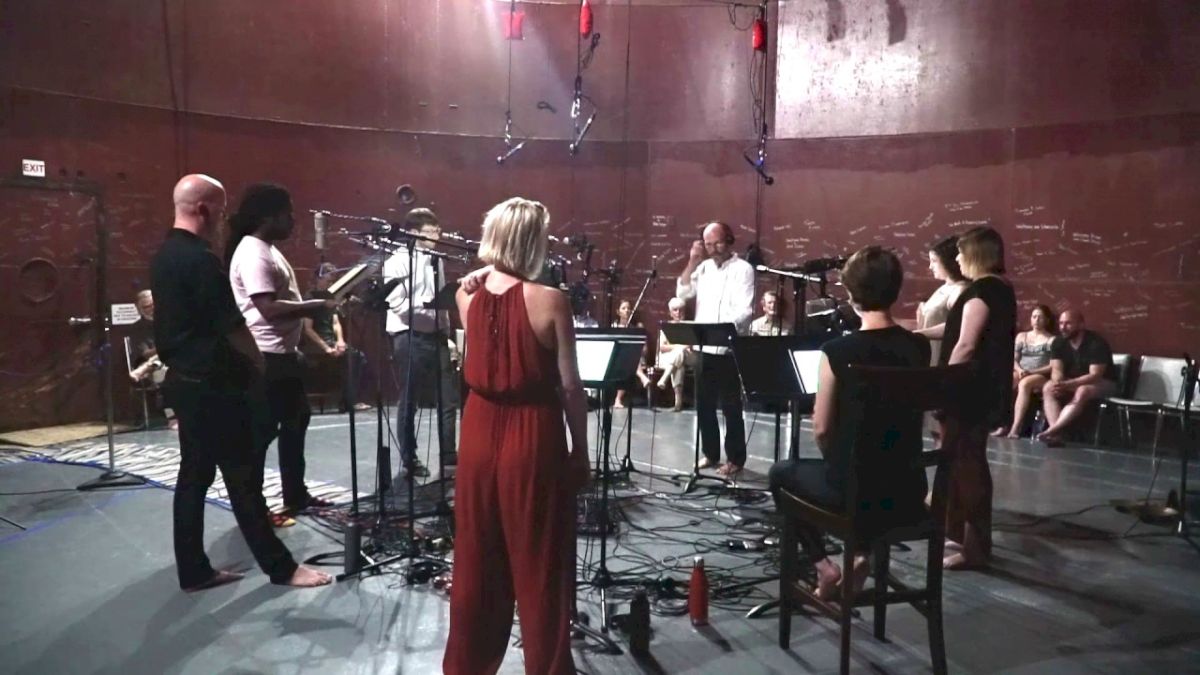 Jessica Meyer
happened to be in Paris on Easter Sunday morning, and while she was at a café, three different churches within earshot started chiming to call everyone to mass. Amazing rhythms started to phase in and out of each other, so naturally she ran outside with her phone to record it.
This became the inspiration for "Ring Out, Wild Bells," a piece Meyer wrote for
Roomful of Teeth
set to a poem by Lord Alfred Tennyson (published in 1850, yet still very relevant today) that accurately sums up what she wishes to see in the world.
"I love setting text and writing for the voice especially," Meyer said.
Roomful of Teeth live at The Tank performing Jessica Meyer's "Ring Out, Wild Bells"
It is an honor to have Roomful of Teeth bring this to life.
What was it like collaborating with Teeth? "It was fantastic," Meyer told FloVoice. "I knew several of them already from different performances I've done with different ensembles, and the rest I've certainly heard about.
"A good half of them also have perfect pitch, so I knew that would provide an anchor for the group and allow me to write. However, I really want to write for them -- which was great considering we were short on rehearsal time and they can pull the pitches out of midair to make things happen.
"But mostly, I was in love with all the different kinds of colors they can get with their voices."
Jessica Meyer Performing Her Own Work at the Tank
A member of the group,
Dashon Burton
, knew Jessica from
Trinity Wall Street
and from a concert they did in Miami several years earlier with
Seraphic Fire
. They met for lunch and talked about potentially writing for Teeth. He also introduced Meyer to
Brad Wells
.
Wells was looking at Meyer's music, and they were trying to figure out when would be a good time to collaborate on something. He then mentioned he had this interesting opportunity at a "very unique space called
The Tank
" and said he was asking people if they might have some material that might go on a "holiday" album or something of that nature. Tennyson's poem is certainly very reflective and "is a very appropriate commentary on everything that's going on in America right now -- even though it was written in 1850."
Jessica Meyer always starts out the same way, by asking a few questions:
​What makes you happy when you perform?
What do you love to do when singing?
What are your pet peeves when performing a piece?

Meyer was able to find out what makes each "Teeth" singer unique and invested before incorporating those ideas into her compositional process.
When asked about the rehearsal process, Meyer replied it was "great, yet stressful" as she only got to work in the
The Tank
the day before the performance.
"Most of my music requires people to exaggerate the dynamics so that the overall effect works," Meyer said. "Being there helped shape the piece in a space that is acoustically both wonderous and challenging.
"Also, many of the group members can vacillate between an early music sound, a hard-rock belt, or a bright/tinny ornamental Eastern European vocal sound -- so it was really nice to work with those distinct colors to express the text."
Once at the venue, Meyer and Teeth had to figure out how to exaggerate their choices, invariably putting in more space in between phrases in order to work with
the Tank
's 40-second reverb.
Meyer at the Tank with Her Song, Violin, and a Loop Pedal
It's almost like the space itself is like another performer in the ensemble.
Apart from learning some technical things, like what vowels you can or cannot belt, this experience simply reinforced Meyer's belief that "setting text is such a magical opportunity."
"We use words all the time," she went on to say. "They are powerful just on their own -- but when combined with certain musical sounds, they can be have an incredible emotional impact for the listener."
Subscribe to the FloVoice Newsletter and never miss a beat!