Welcome to the Kettering National A Cappella Festival Event Hub! Featuring: Voiceplay, Freedom's Boombox, Vocalight, Deke Sharon, and many more scholastic performances!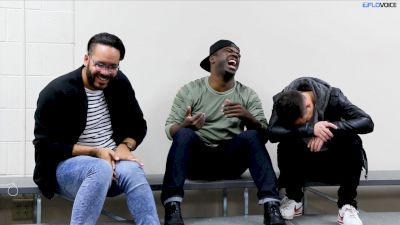 Vocal Charades With Freedom's Boombox
Nov 10, 2017
We're so excited to show you our new game: Vocal Charades!
We met up with Freedom's Boombox before the 2017 Kettering National A Cappella Festival in Dayton, Ohio, this weekend to show them how to play.
Rules
Step 1: Choose a song everyone playing knows.
Step 2: Begin Listening to the song on headphones.
Step 3: Sing along to the track (anything EXCEPT the melody/lyrics)
Step 4: Get other players to guess the song from just your singing of the background parts.
Pro Tip 1: Show the rhythm by using body/vocal percussion while singing.
Pro Tip 2: Jump between different instrumental parts to show more of the holistic arrangement.
Don't miss Freedom's Boombox LIVE at the 2017 Kettering National A Cappella Festival!
Only on FloVoice
How to Watch
ON TV: Available on Roku and Apple TV 4 -- download the FloSports app now.
STREAMING: Only on FloVoice with a PRO subscription. A yearly PRO subscription provides access to ALL FloSports sites.