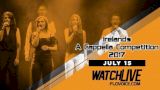 2017 Irish International A Cappella Festival
Jul 15
Dublin, IR
Show Results
: Irish A Cappella Festival Competition
Full Results from the Irish A Cappella Festival Competition
Results from the 1st ever Irish A Cappella Festival
Audience Favorite:
Vocal Point
Best Song:
"Daddy Lessons" " performed by
Síonra
2017 Irish A Cappella Festival Champions:
Lady Barbalade
Full Results
The winners of both the
Small Ensemble
and
Large Choir
categories should have be moving on to the Finals at the
Irish A Cappella Festival
.
Irish Finalists Announced
Vocal Point
won the Small Ensemble category and moved on to the Finals.
Although the
Ramparts
did win the Large Choir category, due to scheduling conflicts, they will not be able to compete in the Finals.
Both Vocal Point and the Ramparts will receive masterclass coachings from
The Swingles
!
The Ramparts live at the Irish A Cappella Festival
The other 3 Finalists were
Lady Barbalade
,
Síonra
, and Cruinniú Chamber Choir!