After a full day of rehearsing, making new friends and battling the rain, the competitors in the 2019 International Championship of High School A cappella sang their hearts out and left everything on the stage.
Each group presented a 12 minute set and was scored on vocal performance, visual performance and subjective rank. Special awards were also given for Outstanding Soloist, Outstanding Arrangement, Outstanding Vocal Percussion, and Outstanding Choreography.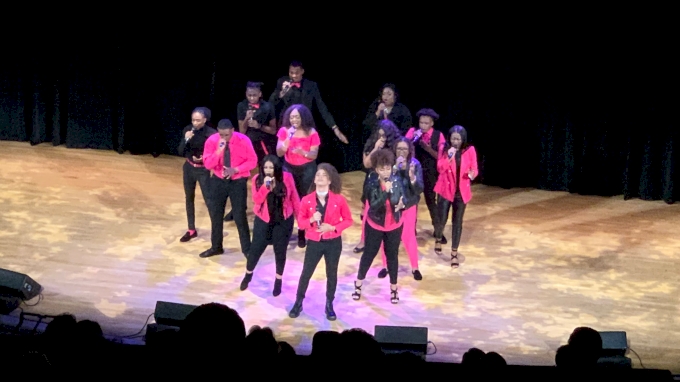 The top honors went to Intonenation from New Manchester High School in Douglasville, Georgia. This powerhouse group also took home Outstanding Soloist and tied for Outstanding Arrangement. When they took the stage you were captivated from the very first note and their brilliant use of hot pink. The tenderness and musicality the group demonstrated in their arrangement of Calum Scott's "Dancing on My Own" made the audience erupt with applause. Their complex and dynamic arrangements coupled with confidence really made this group stand out.
Second place was awarded to Skyline Blues from Ann Arbor, MI. They also walked away with Outstanding Vocal percussion. This group had amazing uniformity, not only in their costuming, but in their music and singing style. It was no surprise they came away with top honors in vocal percussion. Setting a solid rhythmic foundation is important to any successful a cappella performance but to make it look as effortless as Skyline Blues did is a feat in its own.
Other notable awards: third place finalist, The Thursdays, from Chelmsford High School in Massachusetts. The recipient of a tie for Outstanding Arrangement went to Free to Breath from Sunset High School in Portland, Oregon. Outstanding Choreography was given to this years ICHSA wildcard Runner-Up Evolve of Chesapeake High School in Pasadena, Maryland.
While scores were calculated, the audience was treated to a performance by Sam Creighton and her accompanist and collaborator Will Jay. Sam mixes incredible vocal talent with inspiring arrangements. Even though she has added instruments to her deep a cappella roots, the skills she has carried on from her time in contemporary a cappella is obvious.
While the competition for these outstanding high schoolers has come to and end in 2019, we are already anxiously looking forward to what the ICHSA competition of 2020 will bring.