From Disney, to The Beatles, to barbershop classics, the youngest and oldest talent of the Barbershop Harmony Society shared the stage at the Florida Theatre in a marathon of chorus performances today at the BHS Midwinter Convention in Jacksonville.
This Chorus Invitational is judged on a scale of Good, Excellent, Outstanding, and Superior in each category, as well as special awards. The Senior Chorus Invitational does award a gold medal to the top scoring chorus.On the Junior Chorus side, BHS offers top honors in three size categories (A, AA, AAA), a Presenters Award, and Audience Favorite.
In the 2020 Senior Chorus contest, the Ozark Overtones (Central States District) won the gold medal, under the direction of Jeff Veteto. The Carolina Statesmen, The Dixie Seniors Chorus, and the Sunshine Statesmen also earned a Superior rating.
On the NextGen Junior side, Rowdy Rhythm of Peters Township High School in McMurray, PA earned a Superior rating and the Audience Favorite. Chandler High School Treblemakers of Chandler, AZ also earned a Superior rating and the Plateau AAA Award for top chorus of more than 40 singers.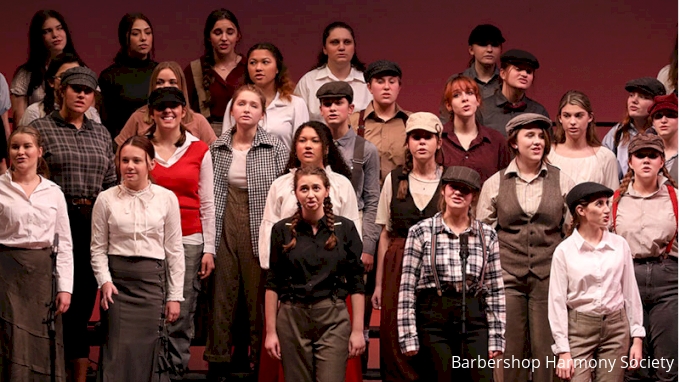 Also from Chandler High School, the Men's Choir earned the Plateau AA Award for choirs of 21-40 members with a rating of Outstanding, as well as the Presenter's Award from Tommy Boynton of The Four Freshmen. Also earning the Outstanding rating was Plateau A Award recipients, Cleveland Heights Women's Barbershoppers. Georgia Spirit and SOA Singers also earned Outstanding.
Earning an Excellent rating was Prairie Chords, Anna Coyotes Chorus, and St. Louis Park Middle School. Middle School groups Bro Re Mi and Bella Voce received Good ratings.
The action continues today in Jacksonville for the close out of the Midwinter Convention. Tune in to FloVoice at 11 am EST for the Senior Quartet Contest and then celebrate the close of another fantastic convention with the Closing Night Showcase featuring The Four Freshman and a long list of barbershop stars.