2019 Harmony, Inc. International Convention & Contests
Hot Pursuit Crowned 2019 Harmony Queens
Hot Pursuit Crowned 2019 Harmony Queens
It was a strong afternoon of singing at the Harmony, Inc. Quartet Finals, where Hot Pursuit was named the 2019 Harmony Queens.
Nov 9, 2019
by FloVoice Staff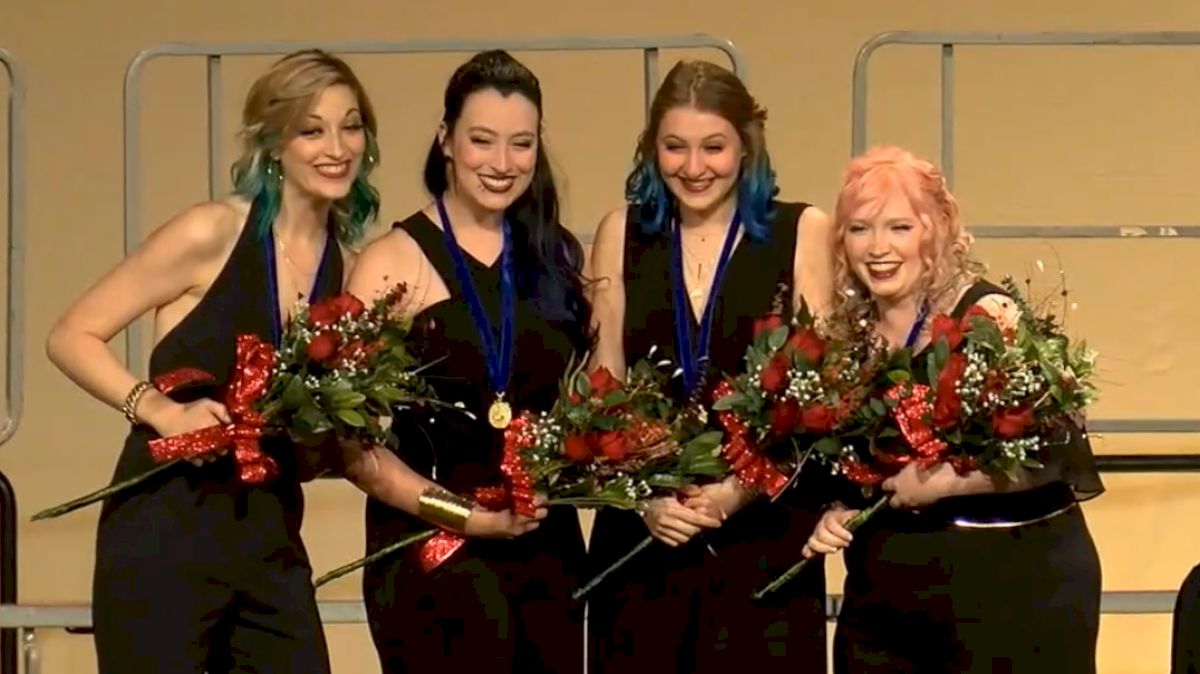 It was a strong afternoon of singing at the Harmony, Inc. Quartet Finals, where Hot Pursuit was named the 2019 Harmony Queens. Scoring an 81.5%, Hot Pursuit now joins the welcome company of the Association of Harmony Queens.
Take 4 took home the silver medal for a second year in a row with a score of 80.7%
Fierce (79.1%), Swing Theory (78.0%), and NewQ (76.9%) received the 3rd, 4th, and 5th place medals.
The Image of Harmony Award was given to Life's A Pitch for their service to the organization. Resolution won the Findlay Plaque for the Novice Quartet Award, and SweetLife won the Accord Award for Most Improved.
Here's a recap of the stellar contest:
Starting off the finals festivities, the audience was treated to a reprise performance by Generations, 11th place finishers and members of yesterday's champion chorus, A Cappella Showcase.
Something Good from Atlanta Harmony Celebration! started off the contest with two softer songs with uptune "Almost There" and the classic ballad "It Had to Be You." ending with a beautiful, barely audible but perfectly tuned final chord.
Fierce, representing Area 6 was up next with "I'm In the Mood For Love," first sung by Frances Langford and re-popularized by Frank Sinatra was pretty much a textbook example of good barbershop. They closed out their set with the Billie Holiday tune "Love Me or Leave Me."
Take 4 started with "Anything Can Happen If You Let It," from the Broadway musical "Mary Poppins," scattered with moments of humor. The mood immediately settled for their closing ballad, "If I Ruled the World," starting with a simple solo by lead Chacey Rembecki and staggered entrance by each of the other voices, singing to a clearly captivated audience.
From Area 5, new Harmony, Inc. quartet, Swing Theory, opened with "I Have Dreamed" from musical "The King and I", which included a feature for tenor, Amy Rose. And perhaps in homage to their name, they brought out "How'd Ja Like to Love Me?" by Swing Republic that included a mid-song post and ended with a perfectly rung chord.
Performing 5th, NewQ out of Area 2 sang "Come Rain or Come Shine" and Ella Fitzgerald's "Time After Time" with the type of poise that comes from a group that has quite a collection of crowns from contests past.
Area 4's Resolution took the stage next, kicking off with the Doris Day ballad, "If I Give My Heart To You" and then singing "Taking A Chance on Love" by Ella Fitzgerald to close out a strong performance.
Vivace, comprised of 3 former Harmony Queens and the current President of the International Board of Directors, starting with Peggy Lee's playful "I Love being Here with You" and closing with Ray Charles' "But You Don't Know Me," which really highlighted the strength of bass, Jessi Nasto.
Out of Area 6, Hot Pursuit brought a little soul with Kay Starr's "Don't Do Something to Someone Else" and gravity with "Maybe This Time" from Cabaret, with a beautiful bass feature from . Their fans, decked in their signature pizza gear, and quickly joined by the rest of the audience, made sure they received warm and enthusiastic applause.
Lip Service, known for taking on songs from musicals and movies, started with "At Last I See the Light" from Tangled and closed with "Not While I'm Around" from Sweeney Todd.
Closing out the finals, Balancing Act also sang a Billie Holiday song, "I Can't Give You Anything But Love" with snippets of classic love songs and "May I Never Love Again" by Perry Como.
While the scores were tallied, the next generation of Harmony took the stage with the Minor Chords, a combined chorus of the youth of Harmony, Inc. The set had a fun circus theme, singing "When I See An Elephant Fly."
And, as is tradition, 2018 Harmony Queens Aged To Perfection closed out their celebratory year with the hilarious story of their quartet before trading in the traveling crowns for their permanent ones.
And with that, the IC&C Convention will come to a close this evening with a dinner celebration and showcase featuring this year's medalists. The IC&C excitement will return in November 2020 from Louisville.