2019 Harmony, Inc. International Convention & Contests
Harmony, Inc. Names Top Ten Quartets
Harmony, Inc. Names Top Ten Quartets
The stage lit up all day Thursday in Sandusky with 31 international qualifiers in the Harmony, Inc. quartet semifinals.
Nov 8, 2019
by FloVoice Staff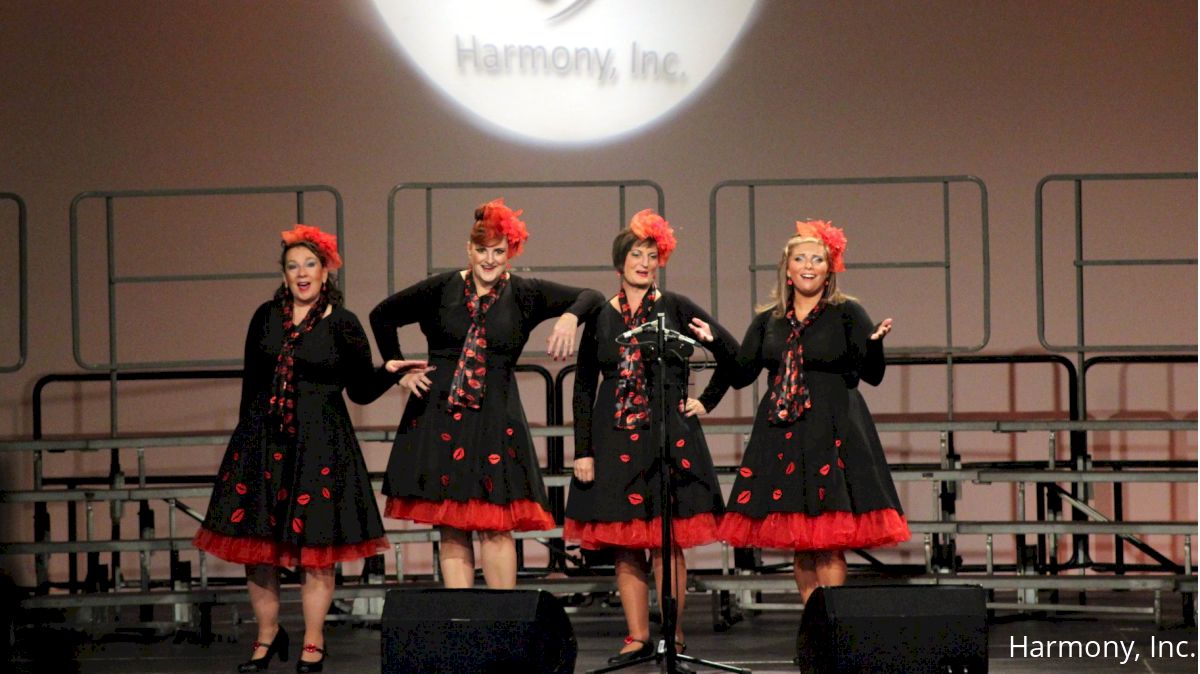 The stage lit up all day Thursday in Sandusky with 31 international qualifiers in the Harmony, Inc. quartet semifinals. After seeing a parade of heavy hitters, big personalities, and lots of ringing chords, the coveted top ten were announced. These 10 quartets, plus a mic tester, will take the stage on Saturday at 12:30 pm EST for the quartet finals.
The finalists, in order of appearance are:
1. Something Good (Area 6)
This relatively young quartet is no stranger to the international stage, earning 11th place in the 2018 contest and serving as mic-testers for the finals. This year, they'll be right in the mix with a top ten finish, moving up the qualifying ranks from 18th.

2. Fierce (Area 4)
Seasoned barbershoppers from four different states dropped quite a hit in the semifinals. Although they are no strangers to barbershop as individual singers, this was their first appearance together in international contest.

3. Take 4 (Area 4)
Last year's runners up brought classic, ringing barbershop to the stage. Coming off a fantastic performance at the recent Sweet Adelines International contest, they were ready from note one. Will this be their year?

4. Swing Theory (Area 5)
Another new quartet to the Harmony, Inc. stage, this group came packed with heavy talent, including their standout bass, Mo Field. Certainly an audience favorite, as they were one of the only quartets to receive a standing ovation.

5. New Q (Area 2)
What do you get with three former queens and the ultimate (now grown) barberbrat? A fantastic new quartet poised to earn at least another medal in this year's contest. This quartet includes two members of the 2016 Queens, Taken For Granite, Renee and Samantha Tramack.

6. Resolution (Area 4)
Another Sweet Adelines crossover quartet took their first HI IC&C stage and earned a spot in the top ten.

7. Vivace (Area 3)
Another group with members that are very familiar with the international stage, Vivace brings three Harmony Queens from across New York state in this new, but strong combination.

8. Hot Pursuit (Area 6)
The 2018 Sweet Adelines Rising Star Champions won over the hearts of the audience immediately with a striking performance by their lead, Tessa Walker.

9. Lip Service (Area 3)
Lip Service is a perennial contender, finishing third in 2017 and 2018. The quartet also sings with powerhouse chorus, Northern Blend.

10. Balancing Act (Area 5)
With members from Area 1 and 5, this long distance quartet improved on their ranking head in from 13th to qualify for the top ten. This group has been registered with Sweet Adelines for nearly ten years and brings that experience the the Harmony, Inc. finalsfor a second time.
Generations, featuring the contest's youngest competitor, Emily Travis, will start off the contest at the 11th place finishers and finals mic testers.