Rematch Expected At ICCA Mid-Atlantic Semi
Rematch Expected At ICCA Mid-Atlantic Semi
Front-runners The Towson Trills and Vocal Point will go head-to-head in a rematch that saw them finish 1-2 last year.
Mar 5, 2018
by Amanda Cornaglia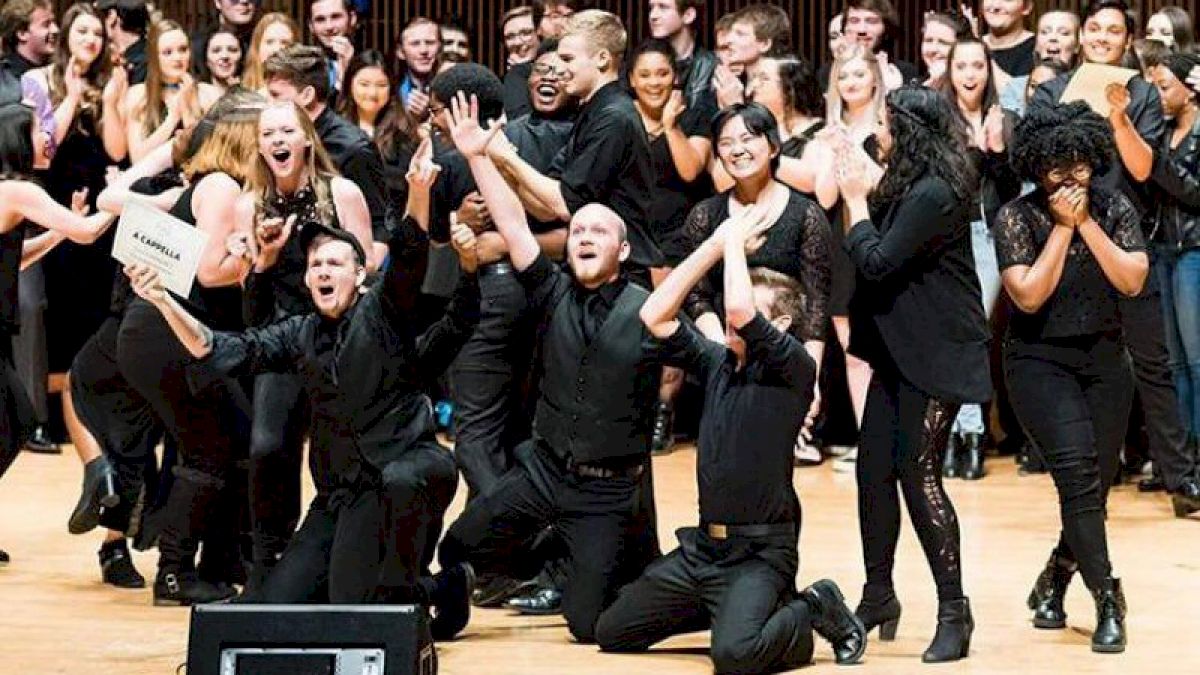 The 10 best groups from the Mid-Atlantic will meet March 31 at the Kimmel Center for the Arts in Philadelphia in what's guaranteed to be one of the best shows of the year.
Front-runners The Towson Trills and Vocal Point will go head-to-head in a semifinals rematch that saw them finish 1-2 last year. Will they edge out the rest of the field again this year, or will a newcomer break onto the Finals stage?
The College of William & Mary
Quarterfinal Score: 391
With a non-traditional approach to its quarterfinals performance, No Ceiling chose its moments wisely. Three standout soloists and consistent performances throughout the set put the group on top at the GWU quarterfinal and earned an Outstanding Choreography award for Keira McCarthy. Founded just three years ago, this group is making big moves in a short time with its second appearance at semifinals.
---
George Washington University
Quarterfinal Score: 364
With a bombastic set, The Vibes brought along a full bag of tricks to showcase their talent in the quarterfinals. Christina Maldonado took home Outstanding Soloist for "Walk On Water," and Brent Arimoto won Outstanding Vocal Percussion for the entire set. The group is still looking for a little support to help it get to Philly.
---
University of Maryland, Baltimore County (UMBC)
Quarterfinal Score: 368
Showcasing a wide range of genres, The Cleftos outperformed a strong field of competitors at the University of Maryland quarterfinal and also won Outstanding Choreography. The group is excited to return to the semifinal stage and could use your help to get there.
---
University of Maryland
Quarterfinal Score: 349
A very clean, dynamic set put DaCadence in the semifinals with a strong second-place finish. The group demonstrated excellent blend to better its 2017 third-place finish at quarterfinals. The group recently released its version of "River."
---
Towson University
Quarterfinal Score: 408
This group quite literally burst onto the scene last year with a finals appearance in its first year competing. With only seven members, The Trills bring a different sound to the ICCA competition stage and they are hoping it will get them back to NYC for the second year. After winning Outstanding Soloist (Nick Zuelsdorf), Outstanding Vocal Percussion (Aaron Bayne), and Outstanding Arrangement (Leroy Hyson), they are certainly a front-runner headed into the semifinals. This student-run group is also in need of your support to continue on in the competition.
---
Temple University
Quarterfinal Score: 375
Performing across the Philadelphia area, this group has traveled to the White House, hosts an annual Spooktacular concert, and has released four EPs in its seven years together. OwlCappella's second-place finish in the quarterfinals was highlighted by Outstanding Choreography from Emily Ballentine and Nick Van Meter for "All We Got."
---
University of Delaware
Quarterfinal Score: 416
Last year's Mid-Atlantic runner-up, this perennially strong group came back for the win this year, with the highest overall quarterfinal score in the region. Outstanding Soloist went to Victoria Aiese for her performance of "Paint It Black." The group last appeared at ICCA Finals in 2014, when it earned third place and a host of special awards.
---
West Chester University of Pennsylvania
Quarterfinal Score: 399
The only co-ed group at West Chester University, this group first competed at ICCA in 2016 and will be making its second straight appearance at semifinals. Spencer Camacho won Outstanding Arrangement for a second year in a row, and Bri Decerio received Outstanding Choreography.
---
Hofstra University
Quarterfinal Score: 360
From a busy Hofstra University a cappella community, The Hofbeats are relatively new to ICCA competition. The group's 20 members perform a wide range of repertoire and enjoy using their music to give back through charity and fundraising events. The group won Outstanding Arrangement in 2017 and returned this year to take first place in the quarterfinals.
---
The College of New Jersey
Quarterfinal Score: 358
Maintaining 16 years of tradition, The Trentones frequently perform around campus for TCNJ events, as well as tour the East Coast with other scholastic groups. With a second-place finish, the group returns to the semifinal stage for the first time since 2013. Music director Madelyn Curtin earned Outstanding Arrangement for "Haze."