In case you missed it,
Avi Kaplan
sang his last official show with
Pentatonix
earlier this week at the
Champlain Valley Fair
in Essex Junction, Vermont, after
announcing his departure
from the group in May.
Near the end of the concert, Avi gave a touching speech that was followed by all five PTX members putting down their handheld microphones in place of a condenser mic (which was hidden behind a stage ghost light that provided the only light as the stage lights are dimmed).
As with any intimate performance, the audience was asked to be quiet.
Usually, it takes a wave of people shushing before there's complete silence. However, at this concert the crowd went silent almost immediately, knowing this was Avi's last solo with the group. Pentatonix's
Scott Hoying
was impressed, saying it was "the fastest it took to quiet a crowd" that he had ever seen.
The group sang their starting B major chord a few times before starting, ensuring they were all together. The sound and the feeling of the pouring rain seemed to disappeared for those five minutes.
Avi's Farewell Speech & "Light in the Hallway"
The moment Avi started singing, you could tell there was a lot going on behind the man.
After the first phrase, he regained his composure and went on beautifully.
Before the reintro on the ending chorus, Avi shortened the "night" to about an eighth note instead of ad-lib soloing right away. He choked back a tear and lightly floated above Kevin Olusola, Mitch Grassi, and Kirstie Maldonado in a beautiful falsetto.
Usually, just the top three parts singing the outro, but for the final rendition everybody sung a part (Scott doubling Mitch and Avi doubling Kevin).
It's easy to hear that this was not easy for PTX, as their voices are constantly on the verge of breaking.
Here are Kaplan's final on-stage moments with Pentatonix.
Before "
Sing
," Scott explained that they usually feature a slideshow behind them during the song.
However, this slideshow was dedicated entirely to Avi because it was his last show,.
Since it was raining and was a "labyrinth to get on/off the stage," the group stayed on stage instead of running through the aisles and giving high fives like they normally do at their concerts.
That didn't stop them from rocking out as hard as they could.
Avi's Final Song: "Sing"
Occasionally, they would turn around and look at the screen behind them, reacting to the photos and the memories being displayed.
After his one line solo, Avi looked back at the pictures and chuckled audibly.
The confetti cannons shot off right as the last chorus landed.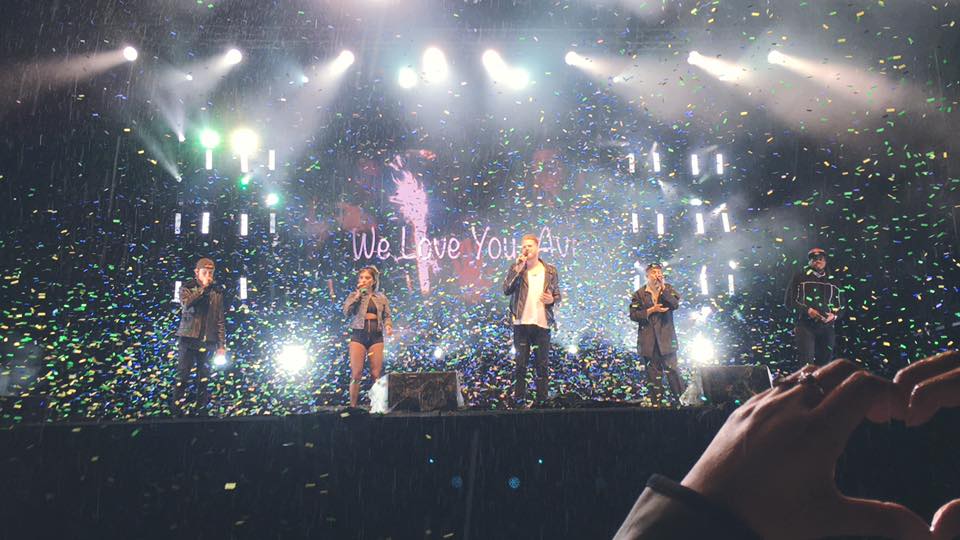 Scott made his way over to Avi and put his arm around him, which soon turned into a group hug once the song ended with the words "We Love You, Avi!" fading in on the screens.
Immediately after the show, Avi tweeted:
[tweet url="https://twitter.com/Avi_Kaplan/status/904568162057949184" hide_media="0" hide_thread="1"]
It wasn't the most in-tune or best intonated show they've ever done, but the emotion was genuine and strong and exactly what we want from PTX.
With the Xmas tour already scheduled to start in December (the first show is already sold out!), what's the lineup of PTX going to be?
Will Pentatonix get a new bass?

Who do you think it will/should be?!
Special thanks to Dan Satter, Samuel Dantowitz, and Isaac Izlov.
--
FloVoice's best content, delivered directly to your inbox!
Don't miss exclusive videos, feature stories, event updates, and more.
Sign up for the FloVoice Newsletter and never miss a beat.