Real Life Pitch Perfect in NYC
Real Life Pitch Perfect in NYC
Dan Purcell recaps his experience going to the International Championship of Collegiate A Cappella on April 22, 2017 at the Beacon Theatre in New York City
Apr 24, 2017
by Evan Feist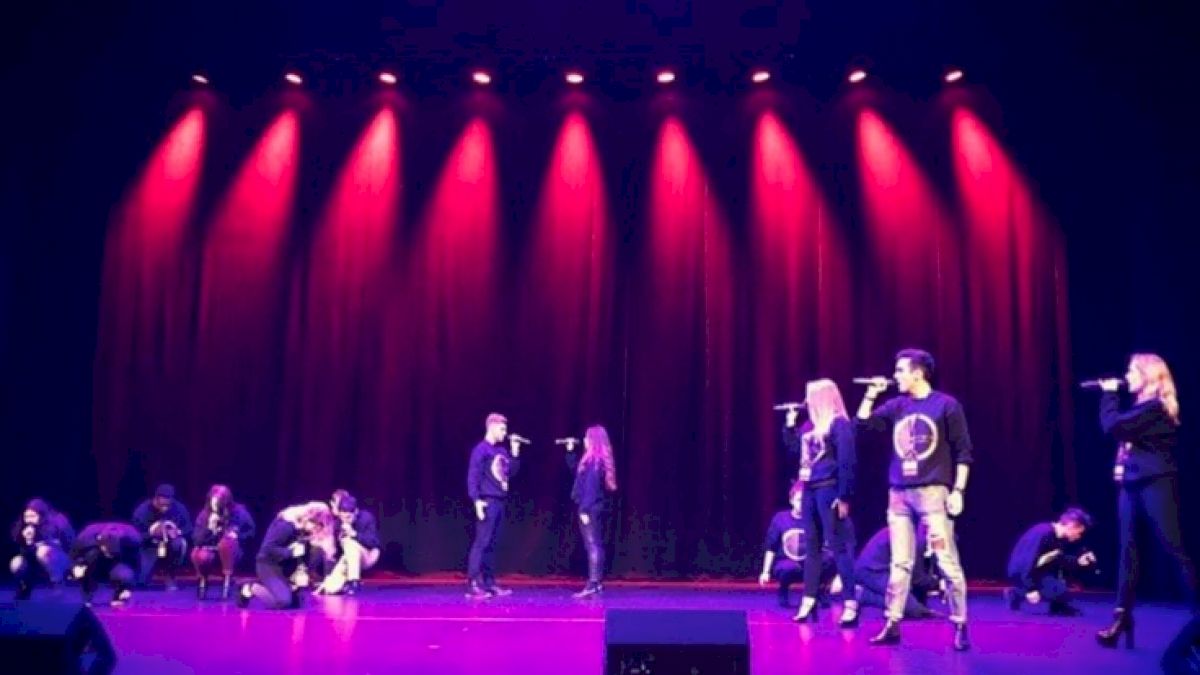 By Dan Purcell
Led by an electric performance by
Best Solo winner Anthony Rodriguez
, the Northeastern University
Nor'Easters
took home the
Gooding Cup
as well as the top spot in the
2017 International Championship of Collegiate A Cappella
after a fierce competition featuring performances from 10 incredible groups at Beacon Theatre in New York City on Saturday.
I've been an a cappella participant and fan for almost eight years now; yet this was the first time that I was attending the finals of the competition made internationally famous by the film "
Pitch Perfect
." The opportunity never came my way to attend finals as a competitor with my college group,
Ithacappella
, but I was still pumped to attend as a fan of all things a cappella. Additionally, I was thrilled that three groups I had been following since my freshman year of college were performing that night:
Voices in Your Head
, the
Nor'Easters
, and the
Scattertones
. I had met a handful of members and alumni during my time in
Ithacappella
, but it would be the first time that I would get to see these groups perform live. I could not wait.
It's safe to say that all 10 groups took advantage of being on the iconic stage of the
Beacon Theatre
by wowing the audience with incredible numbers that showcased dynamic singing, slick choreography and staging, and soloists. These singers are on par with, if not better than, any current major recording artist. The
judges
certainly did not have an easy task as they determined the top three groups of the night.
In between each performance, we were treated to the dynamic energy and hilarity of the emcee pairing of
Courtney Jensen
and
Cooper Kitching
. One of the highlights of their banter between groups was Courtney playing "My Heart Will Go On" on a recorder as a means to cleanse our musical palates. That moment had me in stitches.
The night wasn't over after the competitors left the stage. During the deliberation rounds, the audience was treated to performances from the top three groups that placed at
Friday night's ICSHA Finals
. It's been said many times before, but those three groups are a testament to how far high school a cappella has come since my time in high school. Any one of those three groups on stage could go toe-to-toe with the 10 competitors in the collegiate competition.
First, we got a stunning rendition of Michael Jackson's "Man in the Mirror" by all 10 groups that was taught to the groups
that day
by Grammy Award-winning producer and vocal arranger
Ben Bram
.
Then,
Varsity Vocals
executive director
Amanda Newman
came out with results in hand.
We learned the winner, first and second runners up, as well as special awards given by the judges to individuals who perfomed above and beyond in specific categories. Instead of the usual Best Vocal Percussion award, a Bass award was given for this first time since
Avi Kaplan
(
Pentatonix
) won it in
2008
with Mt. San Antonio College's
Fermata Nowhere
.
You Can Find The Full Results HERE

Gooding Cup in hand, the Nor'Easters took the stage for an encore performance, singing their cover of
Justin Bieber's
"
Sorry
." With that, the finals concluded, and another ICCA season was in the books on a night that proved to be a celebration to how far collegiate a cappella has come and a testament to its incredibly bright future.
Don't forget to subscribe to FloVoice to never miss a note!