The Most Winningest Group In ICCA History
The Most Winningest Group In ICCA History
The SoCal VoCals have won the International Championship of Collegiate A Cappella more times than any a cappella group in history.
Apr 20, 2017
by Evan Feist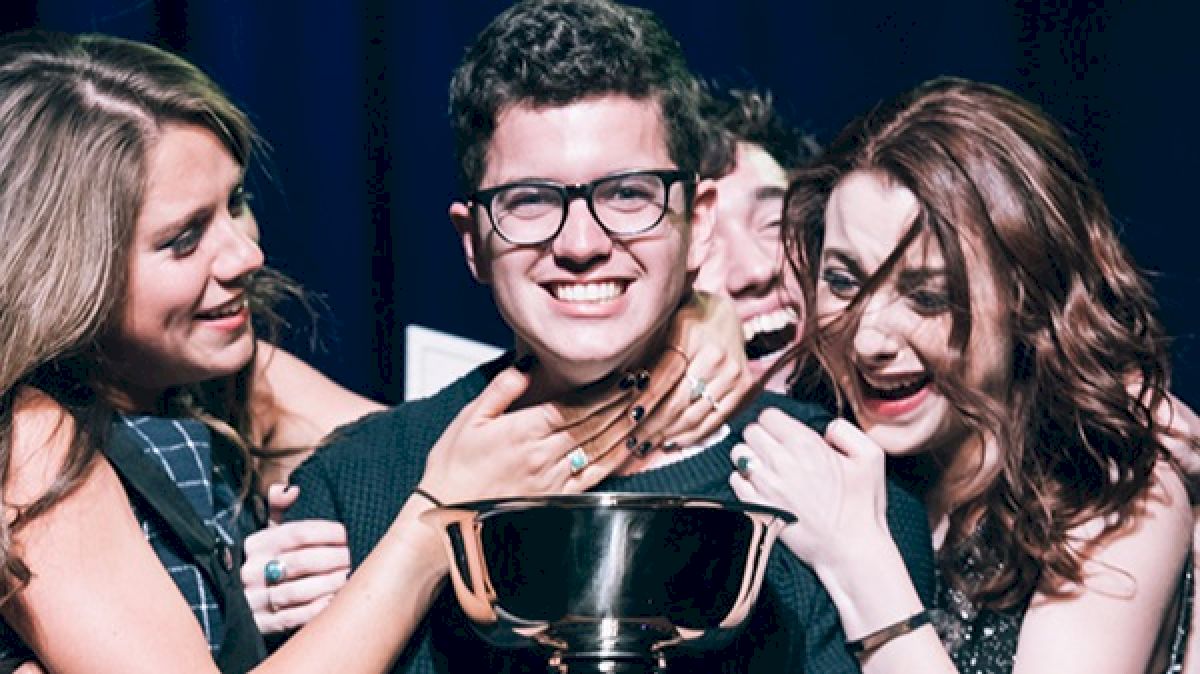 SoCal VoCals are everywhere. They're on
Broadway
, pretty much were "
Glee
," populated many of "
The Sing-Off
" groups, starred in "
Pitch Perfect
," and sing with the
biggest a cappella group
in the world. It's insane how many other SoCal VoCal alumni have gone on to incredibly successful careers in entertainment.
Founded in 1996, the SoCal VoCals are the first of nine a cappella groups from the University of Southern California.
Let's put aside their
multiple award-winning albums
and various famous alumni for a minute. SoCal VoCals' signature achievement is being the first a cappella group to win four titles in the
International Championship of Collegiate A Cappella
, twice as many as any group in history (Berklee Pitchslapped 2011, 2014; UC Berkley Men's Octet 1998, 2000).
When asked why and how the SoCal VoCals have won so many times, Ben Bram (SoCal VoCal, "The Sing-Off," "Pitch Perfect," Pentatonix) said:
I think any kind of repeated victory in a competition setting comes down to consistency--maintaining group standards and a culture of excellence from generation to generation.
Bram outlined a few things he's noticed about the VoCals over the years:
​Talent: "With the help of USC's renowned music school and popular music program, the group has been lucky enough to attract some of the best vocal and musical talent, including soloists, arrangers, and music directors."

​Dedication: "The group works HARD. I can't tell you how hard we worked in 2008. All of us were 200 percent dedicated and rehearsing with the group was our first priority. We take competition very seriously, and I imagine a lot of that mentality has continued."
Leadership: "Luckily there have always been capable members to step up and lead the group both musically and otherwise. Everyone takes their roles very seriously, even if they were peer pressured into accepting a position!"
Knowing Our Strengths: "The group always hires an outside choreographer, asks for trusted outside critiques, and very occasionally uses an outside arrangement. All this just goes into knowing the strengths of those in the group and making sure excellence is always the primary goal."
Vision: "We would have group and individual discussions for many hours talking about the direction of the set and the individual numbers. Song selection is incredibly important. We were very careful to choose songs we thought would resonate with the audience and serve our strengths as a group."
Personalities: "The group usually suffers from a 'too many cooks' scenario, with everybody trying to contribute and voice their opinions. If this is kept in check, this is usually a strength, because by the end of the process, if an entire group of nitpicky type-A personalities is happy with something, it means it's probably in really good shape."
SoCal VoCals Timeline
2008: They take first place with this set:

You can find the story of their first ICCA win
here
.
2010: The SoCal VoCals reclaim the ICCA title.
You can find the story of their second ICCA win
here
.
2012: The SoCal VoCals perform at Town Hall in NYC and win their third ICCA title.
They also became the first group to have won the title by winning the wild-card round, having come in second place during their
semifinal
.
2015: The VoCals win ICCA Finals for the fourth time, a record that has yet to be beaten.
As a SoCal VoCal,
Emily Goglia
("
Grease: LIVE!
," "
The Sing Off
,"
Masterclass
) has won ICCA Finals twice and her sister,
Juliette Goglia
, has won once.
When asked how the two competition years were different (2008 and 2010), Emily said:
"2008 was full of excitement and the unknown. The VoCals had never been to New York or ICCA Finals before and we finally felt like this was the first year we could make it. We came together as a unit in a way that I have never experienced since then. It was pretty magical.
"Competing again in 2010, came with a lot more pressure. Even though I had been in a leadership position in 2008, I was now an upperclassman with a leadership position as well as a soloist in our competing set. There were a few members in the group who didn't want to compete again since their memory of the 2008 experience was so wonderful, which was understandable. Initially, I was one of them. We had created our own standard that we had to beat.
"But when we decided to go for it, we committed 150 percent. The 2010 win was almost more special than 2008, for me anyway. I felt it proved that it wasn't only the individuals that made our group successful, but that the SoCal VoCals as an ongoing entity, were champions. It was pretty unbelievable that we had done it again."
Did the same strategy work for both years?
"You think I'm giving away our strategy?! I want us to keep winning. *wink* If our strategy was hard work and teamwork, then yes."
Did you go in trying something different intentionally?

"We were at the forefront of a cappella being a larger and more popular art form. So we were just figuring it out along the way. We knew what our strengths were as a group, and as individuals. So we catered our sets to what we had."
How was it to watch your sister, Juliette, win (2015) in your alma mater group?
"Seeing my sister win with the VoCals was incredible! What a rush. Some of my proudest moments are inning the ICCA. USC Trojans are big on school spirit and pride, and being in the VoCals basically doubled it all.
"We were the first group on campus (1996), the first group to bring a win home to USC (2008), and the first group ever to have consecutive wins (in competing years). I have never felt teamwork and payoff like this.
"And then to see my little sister -- my best friend who grew up coming to all of our performances -- be part of a winning group when all the odds were against us (who wins four times in a row?!) made heart burst with pride. I am so happy that she had this experience. It really bonded us as sisters. She had been there supporting me, and then I got to do that for her. It was a historic moment in our family. It's impossible to capture in words."
You can keep up with the SoCal VoCals on
Facebook
,
Twitter
,
Instagram
, and
YouTube
Who should our next feature be on? Let us know in the comments below!
Sign up for updates to never miss a note from FloVoice!