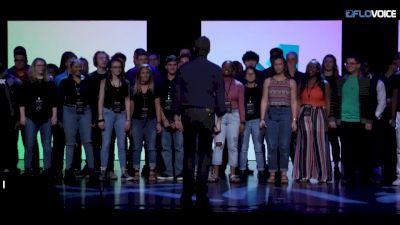 #NACC18 Day 2 Highlights: LARK, OneVoice, & More Provide Perfect Ending
May 1, 2018
In a day packed with concerts, competition, and seminars, 2018 NACC attendees were treated to a full 15 hours of a cappella heaven Saturday in Memphis, TN.
The "Godfather of A Cappella" Deke Sharon led several lectures and masterclasses and presented the keynote address in his role as featured instructor. You can watch the full presentations of The Future of A Cappella and The Heart of Vocal Harmony—lots of great tips from one of the most influential figures in contemporary a cappella.
After a morning full of classes, attention turned to the first AEA Collegiate Invitational, featuring nine of the top collegiate groups in the country. The performances were visually stunning and presented nearly every genre of music across the nine 12-minute sets.
University of Colorado Denver's LARK took top honors, as well as Best Rhythm Section and Best Arrangement, for their entire set. LARK continues to break boundaries with a set that included completely reimagined music, vocal sound effects, and stunning visual interpretation.
SEE AEA COLLEGIATE INVITATIONAL RESULTS
Gestalt of the University of Florida earned runner-up with a unique visual presentation and creative texture in its arrangements. Berklee's Pitch Slapped came in third place and also received Best Use of Movement and Best Male Soloist. UCF KeyHarmony took home Best Female Soloist for Keani Knight's take on "Have Mercy."
The day didn't end there. After a quick dinner break, the convention closed out with a headlining concert which kicked off with Invitational winners TAG and LARK reprising their award-winning performances.
Host group OneVoice took the stage with its notoriously complex arrangements and polished presence—not to mention a surprise collaboration with Vocalight and Faux Paz alumna Lynique Webster.
The evening closed out with a spectacular performance by Cluster, whose unique mix of jazz, classical, rock, and pop had audience members on their feet more often than in their seats.