Inside David Fowler's Meta Mashup
Inside David Fowler's Meta Mashup
An inside look at David Fowler's Superfruit medley as if it was performed by Pentatonix.
Aug 31, 2017
by Evan Feist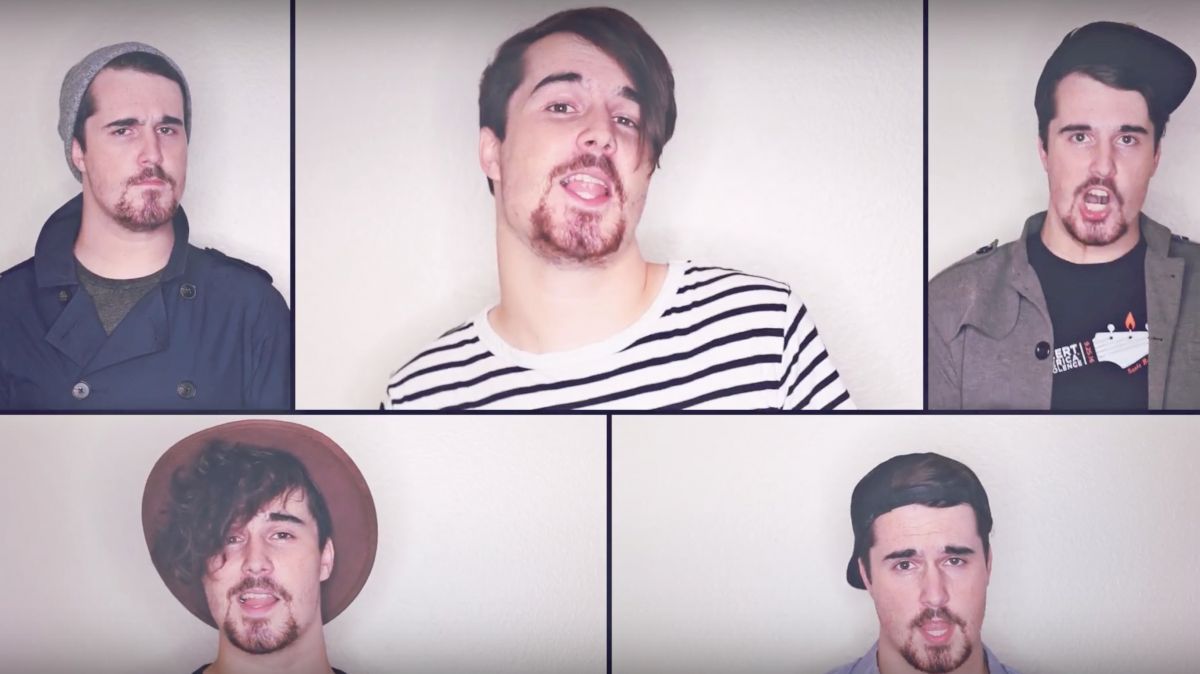 It started over a year ago when
David Fowler
began doing impressions of Superfruit duo
Scott Hoying
and
Mitch Grassi
for fun at a party with a cappella people, and it was surprising how believably he could sing like them in some instances.
Then Fowler heard the
Superfruit
album "
Future Friends
" and fell in love with it.
He was originally just going to do a cover of the song "
Bad 4 Us
" but then expanded it to be a medley of the entire album since he's always wanted to do something like that.
Fowler's good friend Alexander suggested that he do his medley in the style of
Pentatonix
with costumes and all.
"I loved the idea," Fowler told FloVoice. "Especially because it presented a challenge to really think about how PTX would tackle a song. It was
really
fun to try and beatbox in the same way that Kevin would."
"The vocal impressions are just that," Fowler continued. "My best attempt at singing with similar tone and making melodic and inflective choices similar to what I'd imagine Scott and Mitch would make."
It was a hit. Hoying himself tweeted the video.

When asked if he watched
Todrick Hall's
Pentatodrix video on YouTube -- a PTX mashup that has over 4.4. million views -- Fowler said, "I saw that video years ago but chose not to watch it while preparing.
"I didn't want it to inform my decision making -- I wanted my impressions to feel honest and genuine from my own perception of PTX as I see them."
Fowler said putting together the arranging and production elements were the most fun parts of creating the mashup. However, his biggest challenge was trying to make something that sounds like PTX.
"I consider myself an accomplished vocal percussionist," Fowler said. "Mixing it to sound as 'phat' as [Pentatonix beatboxer
Kevin Olusola
] required me to triple track the percussion, which is something I'd never done before this project. The result, though, is something that I think sounds a lot like how K.O. sounds on PTX records.
"With the exception of 'Single Ladies' song, I only used the 'K' snare for the VP, since Kevin heavily favors that over the 'PF' snare."
Fowler also pretty much exclusively uses "doo, dah. bah, and oo" as background syllables with a minimalist chord structure to achieve the naturalistic Pentatonix sound.
Therefore, there's never more than bass, solo, and two harmony notes at a time.
Staying true to the five-part Pentatonix orchestration presented a challenge, as Superfruit often loves to double the melody in octaves.
Utilizing one voice for bass and another for VP, there are only three left to establish chord tones. Fowler had to strategically choose when to forsake a crucial chord tone for a doubled lead line.
Fowler admits to "cheating" a few times by having a sixth "person" in PTX to double the lead in important moments.
"It's really quite impressive how 'honest' PTX is with their arranging," Fowler said. "Never to my knowledge is there a time when any person in the group is singing two distinct parts in any of their recording."
Fowler made sure to include the final chorus half-time breakdown "trope" that PTX loves to employ.
He even included a post-song "Heyyyy," which was an idea he had after filming everything and putting the camera away. He had to set it back up, put all of the different costumes back on, and
then
shoot the post-song message.
I'm kicking myself that I didn't record myself saying 'And don't forget to subscribe' in the Avi (Kaplan) outfit.
Given the success and reception of this one, Fowler fully intends to do the same concept for Pt. 2 of Future Friends.

--
FloVoice's best content, delivered directly to your inbox!
Don't miss exclusive videos, feature stories, event updates, and more.
Sign up for the FloVoice Newsletter and never miss a beat.